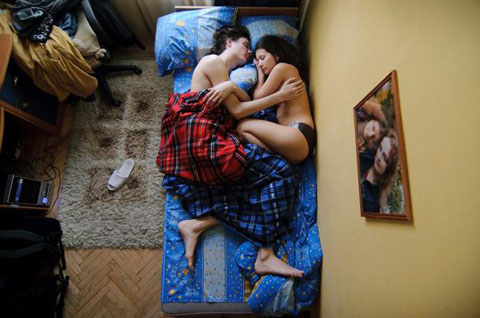 A few years ago Russian photographer Jana Romanova started photographing her pregnant friends, acquaintances and strangers with their partners in St. Petersburg, Russia.  She wanted to capture them early in the morning while they were sleeping (or very drowsy) so that they were less conscious about their appearance and also so that their relationship to one another could be revealed naturally.  She writes:
I tried to understand what kind of roles a young man and woman play in their new family. From the very beginning when he hasn't yet realized he's going to be a father, and she is left alone with this knowledge about a small life growing inside her, passing the step where he becomes a child himself rejecting this new responsibility, and after that coming to a part where he awakes and slowly and they start to play equal roles in the process of waiting.

Waiting not only for a child to be born, but also for their entire life to be changed in 40 weeks.
This series consists of 40 photographs to correlate with 40 weeks of pregnancy.