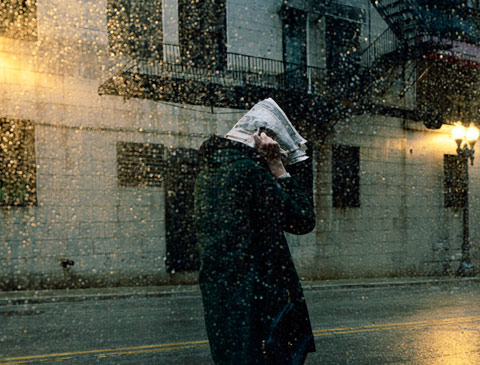 Clarissa Bonet recently earned her MFA in Photography from Columbia College Chicago. She is currently living and working in Chicago.
How did your project City Space begin?
'When I moved to Chicago to go to graduate school I was completely taken aback by the urban environment. It was a really different experience for me. Everything seemed so different and my daily routine was completely turned upside-down.
'Prior to moving to Chicago I lived in Florida one block from the beach, I could see the ocean from my window, I was used to this slow paced and somewhat secluded environment. Now, suddenly, I was faced with hundreds of unknown individuals everywhere I went—from the moment I went to walk my dog in the morning to the commute into the city for school.
'I was incredibly intrigued by this environment: its physical space—the tall buildings, massive amounts of concrete, mysterious unknown strangers—as well as the psychological impact of living this kind of space. I started to explore the idea of the city from the very start of grad school.'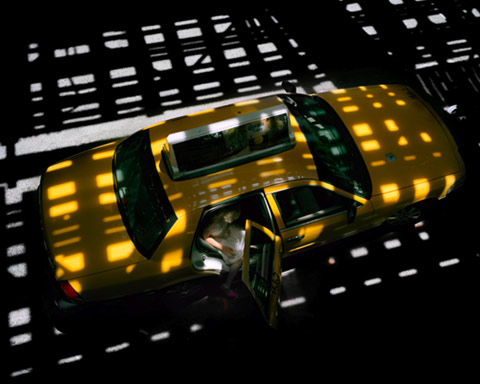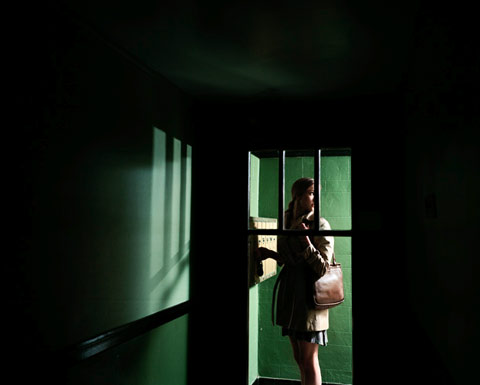 Your photographs heighten common everyday experiences of the city into dramatic scenes. What draws you to recreate certain banal moments that are often unnoticed or forgotten?
'I think there is power in the everyday, especially within the urban space. One thing I was really drawn to when I first moved to the city is the fact that the street is like a stage and there are small dramas unfolding constantly. I think a lot of them go unnoticed, but if you take time to pay attention to your surroundings you can see some really moving and powerful stuff.'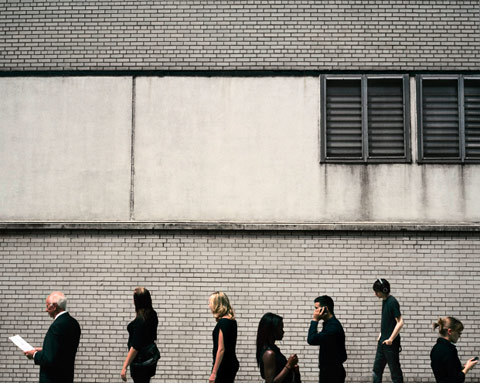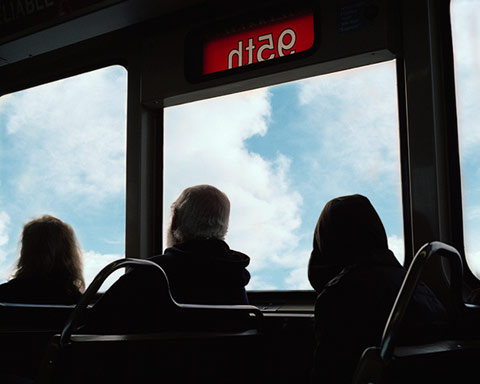 What artists have you been looking at lately?
'I'm always looking at photographs, but there are two artists that I found recently that I was really inspired by.
'I was just in New York City a few weeks ago and I found the work of Rob Hay; he is a painter. I was really fascinated by his painting of pedestrians isolated and removed from their environment and places. He placed these isolated pedestrians on canvas as though arranged in an imaginary gird overlay. Hay's work focuses on the anonymous pedestrian, isolated for our contemplation.
'I also have been looking at Manolo Espaliú's project, 42º, which focuses on the space in between light and shadow on the city street. His are very dark and mysterious images, where the light acts to reveal the pedestrian in an almost otherwise-dark space, placing them in the spotlight on the stage of the street.'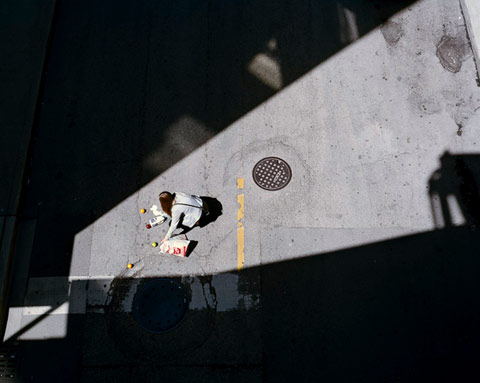 I feel a sense of anxiety or unease for the characters in some of your pictures especially the woman looking over her shoulder in Over your Shoulder and the woman with her groceries scattered in the middle of the street in Spilt Milk. Do you think this speaks to the experience of being hyper aware of being looked at and watched in the city?
'I believe that the sense of anxiety in the images is just a result of living in the city in general. Spilt Milk is more about the anxiety of being looked at and watched and the unease and embarrassment felt by her struggle in public. But Over your Shoulder is more about the personal anxiety of the main character.
'The other people in the photograph are just shadowy figures; they are completely anonymous. It's more about her fear of the unknown.'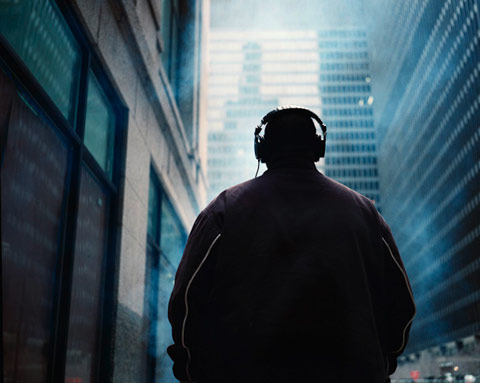 In the photographs the city is graphic and stripped down, almost minimal. Can you talk a little about why you choose to represent the urban environment in this manner?
'My photographs are made in Chicago, but the work is not about Chicago, it's about the urban space in general and my reaction and perception of it. I try to make my images as minimal as possible while still making it obvious that they are taken in the city.
'I don't want the images to speak to a specific place. Instead, I want them to speak about the urban experience, both its physical space—the tall buildings, massive amounts of concrete, the mysterious unknown strangers—and the lack of nature. Yet at the same time, they speak to the psychological impact of all of these things.
'Currently I am only making pictures in Chicago, but I hope to make work in other cities in the near future.'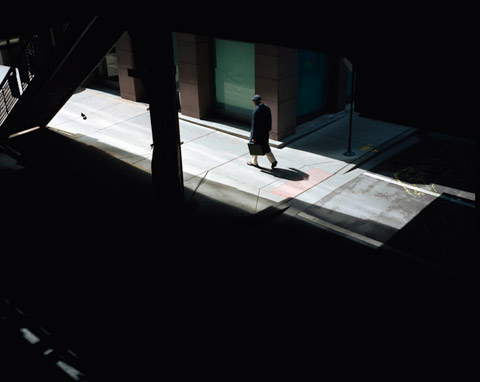 This post was contributed by photographer Natalie Krick.
The 2nd Annual Feature Shoot Emerging Photography Awards is an international photography competition for up-and-coming image makers who are ready to kickstart their careers. Five talented photographers will be provided with the resources they need to get their career off to a strong start. Photographers of all disciplines are welcome to submit up to 5 images in any genre. We can't wait to see your best work! Enter here.