"I don't actually like heights," said London-based aerial photographer Jason Hawkes in an interview with Nikon Pro.
For the past 20 years, Hawkes has been shooting from above for large commercial clients such as Nike, Coca Cola, Nokia, and American Airlines. Hawkes shoots both iconic locations and most abstract patterns, which don't present themselves until seen from above.
Taking photographs while hanging out of an airplane sounds challenging with the expense, weather, and time to take into consideration, but according to Hawkes, the photography process was the easy part. Learning how to find work was the real challenge. "It took a while to get clients who can pay for enough airtime just to let you fly around and see what you can find," said Hawkes in an interview with the Association of Photographers. But now armed with commissions, an extensive stock image library, and the trust of big advertising agencies, Hawkes is free to roam the skies.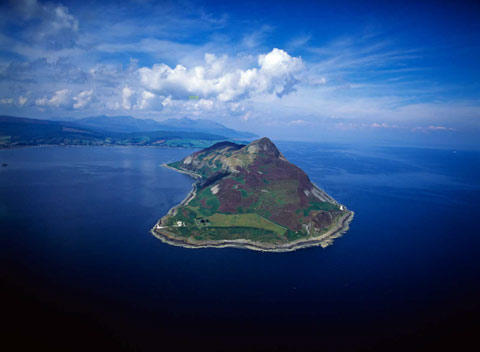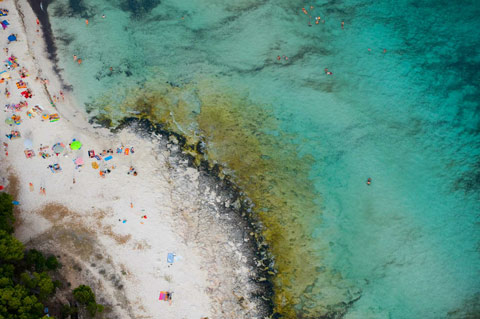 How did you become interested in aerial photography?
'I've been shooting exclusively aerial views for 22 years. I studied photography at college and whilst assisting a few studio photographers in London aged 21, I happened to go flying in a microlight one weekend with some friends. I got hooked on what you could see from 1,000 ft. up, and so a month after my first flight, I took out a bank loan and bought a microlight of my own. I built up a quick portfolio over a few months and then moved onto shooting from helicopters.'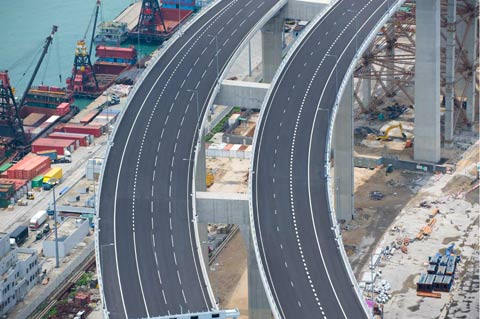 What is the most difficult thing about shooting from the sky? Do you ever run into any problems obtaining permission?
'Gaining permission is fairly easy most of the time. The difficulties are if you have to be very low over a city, or near a huge airport. Luckily, I now know most of the right people and pilots who can help resolve any issues like this.'
Have you ever had any close calls in the air?
'I've had a very, very, very, very, near miss in the United States a few years back. Mostly though it might be the odd military that scares the life out of you as [they] streak across the sky. In the cities you are so tightly controlled by air traffic there's very little chance of anything bad happening, and I usually fly in twin-engine helicopters.'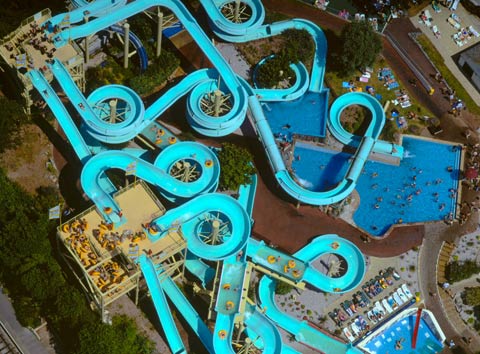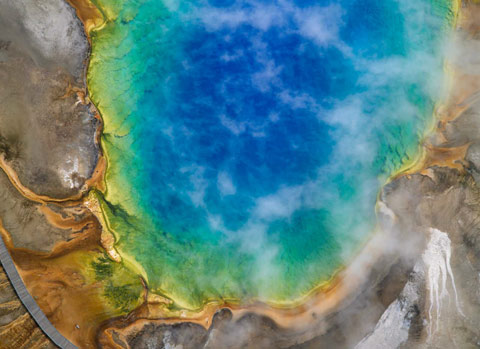 Do you have a team that assists you? If so, what does their job require?
'No, I usually fly with just myself and the pilot. I employ people in the office sometimes but only for keywording or helping run my stock library.'
Do you need any special equipment to shoot from the air?
'In the daylight I shoot with standard Nikons like the D3X and D3S, soon to be upgraded of course to the latest Nikon equipment like the D4 / 800. At night you have to use very cumbersome gyro stabilizing mounts.'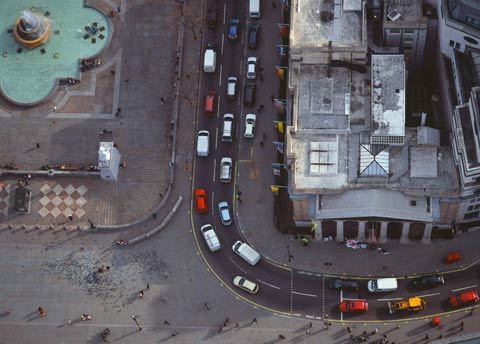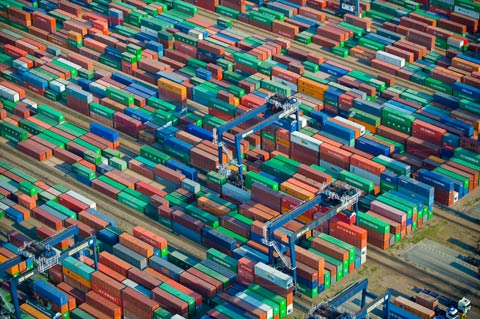 What do you look for when you're shooting? Any particular patterns you tend to favor? Do you have a favorite time of day to shoot?
'At the moment I'm really into dusk / night images. I wanted to do it for so many years on film but the results were rubbish, so I just love flying over cities at night.'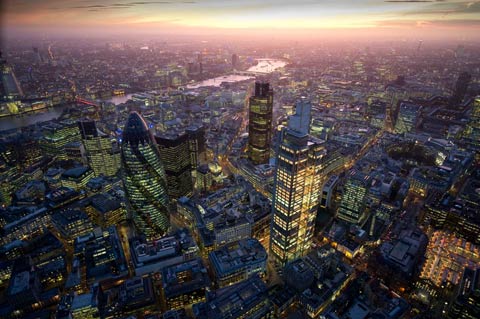 This post was contributed by Feature Shoot editorial intern Jennifer Kaye.