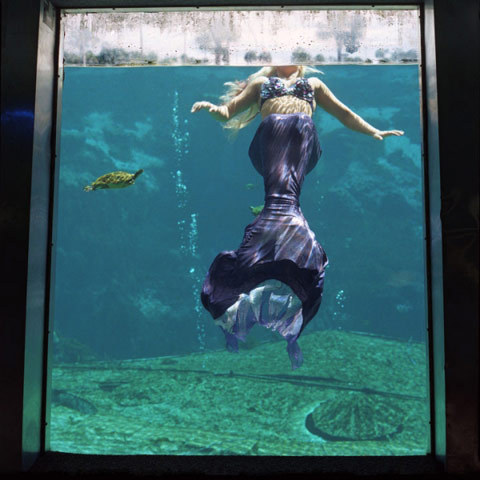 An hour's drive from Tampa, Florida, Weeki Wachee has a spring so deep that no one has ever reached the bottom. Newton Perry, a former Navy officer who had trained SEALS to swim underwater, had the idea to create an underwater theatre there, featuring attractive woman swimmers. Instead of cumbersome diving tanks, Perry invented a discreet breathing system for the women using tubes hidden in the spring. When the theatre opened, highway 19 was a small dusty road and cars were rare. Like mythological sirens, the mermaids would stand by the roadside in their bathing suits and tempt people into the park. By the 1950s Weeki Wachee had become a booming tourist attraction and people travelled from all over the states to see the mermaids, even Elvis Presley.

Being a mermaid became a highly sought after job, and women came from all over to audition. As well as attractive, the mermaids needed to be very athletic swimmers, able to perform sometimes seven shows a day. In 1959, when the park was bought by ABC, a new 500-seat theatre was built and costumes were introduced, so that the swimmers wore their mermaid tails in the water. These were the boom years, but by 2002 the park had become neglected and was threatened with closure. After a campaign by the mermaids, Weeki Wachee Springs was saved and is now a State Park.

Photographer Annie Collinge was born and brought up in London, and currently based in Brooklyn.