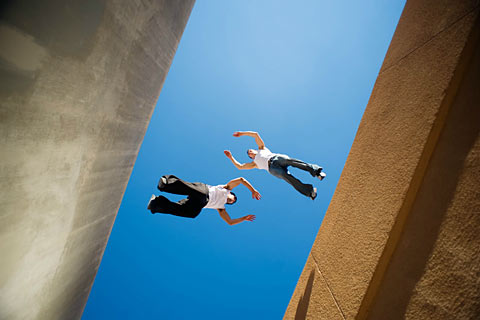 Laura Barisonzi is a NY-based photographer and director of photography shooting sports, lifestyle, and portraits on location. About this series on free running she writes:

'This project on the sport of free running, also known as parkour, was inspired by the simplicity and freedom of the sport. The athletes practice the sport without padding or equipment which makes it easier to show the forms and motion. The fact that there is no specific list of rules or official moves is a big part of the spirit of the sport, which is about interacting with and navigating through your environment.

'I wanted to feature the natural ability of the athletes and capture clean compositions that show the athleticism of the sport as much as possible. While I have shot both moving and still footage as part of this project, I think that the still images really convey the drama and freedom of the sport best'.
The 2nd Annual Feature Shoot Emerging Photography Awards is an international photography competition for up-and-coming image makers who are ready to kickstart their careers. Five talented photographers will be provided with the resources they need to get their career off to a strong start. Photographers of all disciplines are welcome to submit up to 5 images in any genre. We can't wait to see your best work! Enter here.