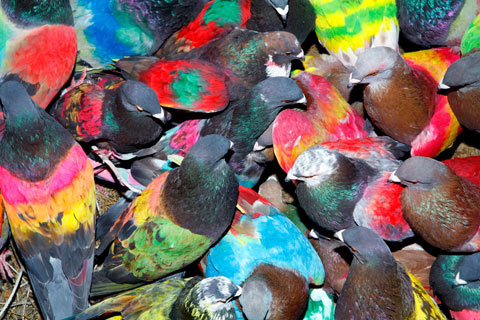 Ricardo Cases lives and works in Madrid, Spain. He spent three years photographing this series Paloma al wire based on Colombiculture which is a sport played out by middle aged men and pigeons in the north of Spain.

The sport is based around one female pigeon that is released along with dozens of young male pigeons that fly around her, competing for her attention. None of them will manage to attain a high level of intimacy with her but the winner is the one who manages to stay close to her the longest. It is not the most athletic, the toughest or the purest breed that wins. It is the most courteous and persistent pigeon that has the strongest reproductive instinct. The winning pigeon will carry home large amounts of money from the betting to its master.

Raising a champion pigeon brings prestige and benefits. Painted with specific colours and patterns, like flags or football team colours, the pigeon is raised and trained to mate. The pigeon keeper invests time and effort in his pigeon. He gives him a name and has faith in him. When the competition day comes, he arrives with childlike illusion and uncertainty. The pigeon becomes, according to Cases, the keepers flying personality. It embodies his success or failure, economically and sexually.