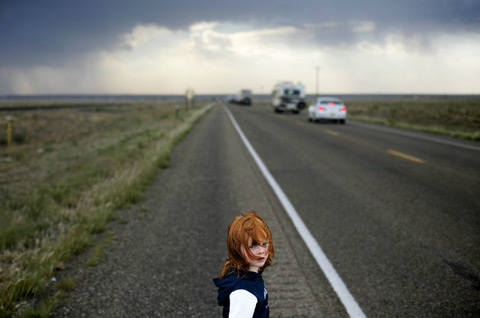 Ben Sklar is based in Austin, Texas and photographs for publications such as The New York Times, National Geographic Magazine, Newsweek, The London Sunday Times and Time Magazine. This work is from the ongoing project, 'Serenity', in which he writes, 'In the early spring of 2008 Aimee and her husband Jeff decided they were fed up.  They wanted to free themselves from the constraints of the mundane, routine everyday lifestyle in urban America that so many have become conditioned to call normal. The American Dream so many strive for had left them jaded and full of discontent. They donated everything they owned: a 50-inch TV, boxes of childrens' toys, and even gave away their wedding rings to a couple they found on Craigslist.

'A retired military family sold them a 1980s Allegro recreational vehicle and shortly their after the family made their way slowly to their first destination — the Rainbow gathering in Wyoming. A place they would learn how to be free and live in the present as inspired by author Eckhart Tolle. The Harris family made connections to people of a similar outlook at the gathering in the wilderness and continued to travel for almost two years.

'The family endured many highs and lows: sub freezing temperatures during a Wisconsin winter, begging for mercy at an airport hotel after going broke, meeting good friends for life who would give them shelter and help repair their RV, seeing the white sands of the finest beaches in Florida and the spirit of New Orleans during Mardi Gras among those experiences. Eventually, they grew wearing of their life on the road and looked more seriously for a place to settle. While crashing at parents and friends' houses in Texas, they found a 160-year old home in a forest in Northern New Mexico and fled Texas again cash in hand for the deposit.

'I continue to maintain a relationship with the Harris family and visit them multiple times a year from my home in Austin. I document the family's experiences through digital still and video photography. Presently I am researching grants to continue photographing alternative lifestyles in the United States and am working on editing the Harris' story into a short documentary film'.