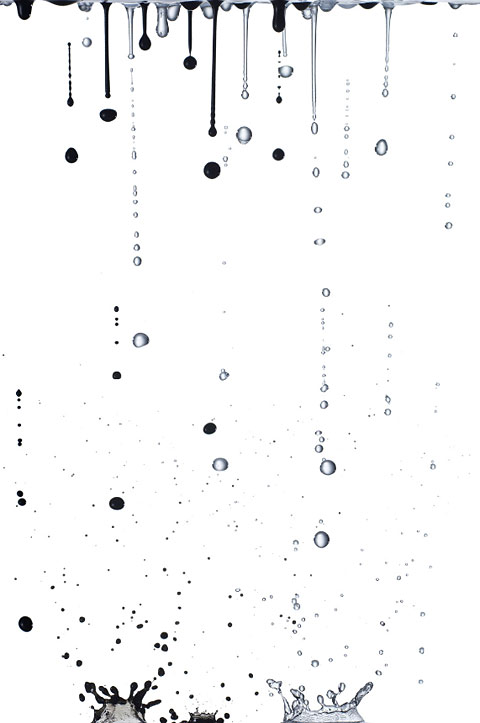 For Shinichi Maruyama, photography is a resourceful medium rich in aesthetic, commercial, and social possibilities. As a high school student in his native Nagano, Japan in the mid-1980s, the artist photographed the picturesque mountainous landscape of the region. After college, he turned to advertising, joining the Hakuhodo Photo Creative in 1998, where he produced innovative campaigns for Japanese companies. In 2001, he published two photo books-The Spiti Valley and Spiti-devoted to a long-term project documenting Tibetan life and culture. For the past five years, in a group of astonishing images he calls the Kusho series, Maruyama has focused on the technical and formal characteristics of the photographic medium itself.

The Kusho series consists of twenty-three large-scale color photographs that represent the interplay of black ink and water, both in midair and on white surfaces. The phenomenon that Maruyama captures-two liquids colliding the millisecond before they merge into gray-is the result of various actions and devices. The resultant images literally deconstruct the material elements of ink drawing and calligraphy, allowing us to see in extraordinary detail chemical and physical processes invisible to the naked eye. The split-second timing necessary to photograph these pictures is made possible by recent advances in strobe light technology, allowing the artist to capture phenomena in most instances at 7,500th of a second, and, in the few close-up images of droplets, at an astonishing 20,000th of a second.
The 2nd Annual Feature Shoot Emerging Photography Awards is an international photography competition for up-and-coming image makers who are ready to kickstart their careers. Five talented photographers will be provided with the resources they need to get their career off to a strong start. Photographers of all disciplines are welcome to submit up to 5 images in any genre. We can't wait to see your best work! Enter here.