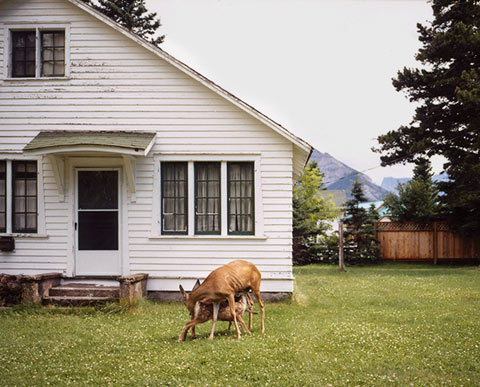 Curated by Alison Zavos, 'Sea Change' is a group photography exhibition—part of the Wassaic Summer Festival—which examines our complicated relationship with animals and the environment in wake of the greatest environmental disaster in American history, the BP oil spill.
Featuring the work of 25 emerging and established photographers, most of whom are based in New York, the exhibition (August 13-22) will be displayed on the beautifully decaying walls of seven rooms in the old Greek Revival Hotel section of Maxon Mills.
Participating photographers: Zev Jonas, Alexander Diaz, Annick Rosenfield, S. Billie Mandle, Charlie Engman, Elizabeth Weinberg, Eric White, Eva Fazzari, Geordie Wood, Jacqueline Di Milia, Kate Kunath, Katharyn Addcox, Katie Shapiro, Lexi Adams, Margaret Inga Wiatrowski, Mark Mahaney, Marten Elder, Nadya Wasylko, Niv Rozenberg, Rachel Barrett, Rob Hann, Robert Warren, Stanislav Ginzburg, Steven Brahms and Timothy Briner.
'Sea Change' runs from August 13-22. Art Reception in Maxon Mills, August 14; 5pm-7pm. Wassaic Project is at 19 Furnace Bank Road, Wassaic, NY
The Wassaic Project Summer Festival is a FREE, annual, multi-disciplinary celebration of art, music, and community in the hamlet of Wassaic, NY. 2010 will feature over 100 artists, 25 bands, poetry readings, dance performances, film screenings, and much more. http://www.wassaicproject.org/
The 2nd Annual Feature Shoot Emerging Photography Awards is an international photography competition for up-and-coming image makers who are ready to kickstart their careers. Five talented photographers will be provided with the resources they need to get their career off to a strong start. Photographers of all disciplines are welcome to submit up to 5 images in any genre. We can't wait to see your best work! Enter here.