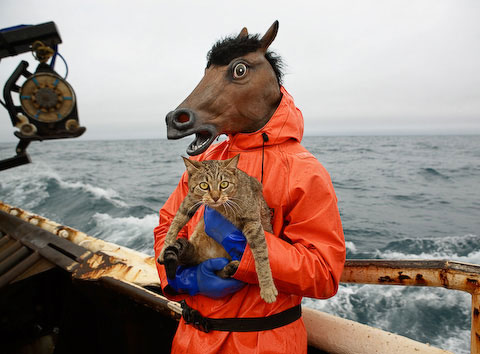 Corey Arnold is a photographer and Alaskan crab fisherman. During October, January and February he can (or cannot) be found aboard the F/V Rollo in the Bering Sea. The rest of the year is packed with travel, gallery exhibitions, magazine and ad photography assignments with a bit of backyard gardening, cat maintenance, and skateboarding in Portland, Oregon. Corey is currently working on his life long photography project, Fish-work, which is a portrait of the modern commercial fisherman. He has spent six years photographing his life as a crab fisherman in the Bering Sea. In 2005, he received an American-Scandinavian Foundation grant to photograph the men at sea in Northern Norway. Upcoming projects include working with the Salmon fishermen of Bristol Bay, Alaska and the Trawl industry of Northern Russia.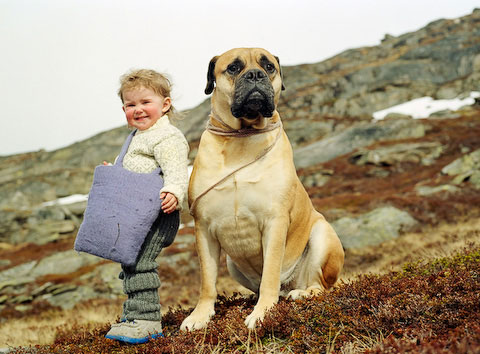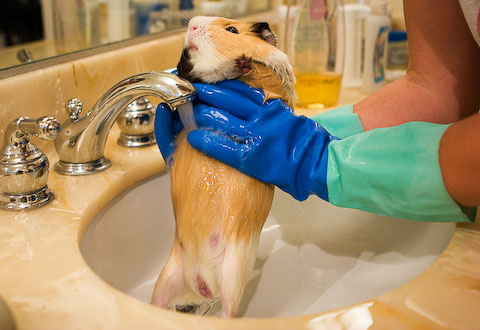 As a professional fisherman you must have a unique perspective on human/animal relationships. How does this influence your photographs?
'When I was a kid I used to stalk birds and other animals with my bb gun in the backyard. My hunter instinct was strong and I'd spend hours searching for victims. Then, after killing something, I was torn by my adrenaline fueled sense of accomplishment and deep sadness for what I had done. The same applied to sportfishing as a child. The goal was, of course, to seek out and kill the largest, most beautiful fish! At home, I've fathered many pets… cats, snakes, dogs, rabbits. For some instinctual reason, I'm endlessly curious about animals. I like to be in close quarters with them, whether it be gutting a fish for dinner letting my cat sleep on my head. The human animal series came along naturally… it's a series of curious animal situations that I've encountered throughout my recent life. This is an ongoing series, an exploration of how we relate to animals and it covers a broad perspective of events both real and designed. My time at sea as a commercial fisherman has given me a more animal perspective on animals then a human one in some ways. The goal is to make pictures that are curious, sometimes brutal and often ridiculous… which is how I experience our shared world with animals'.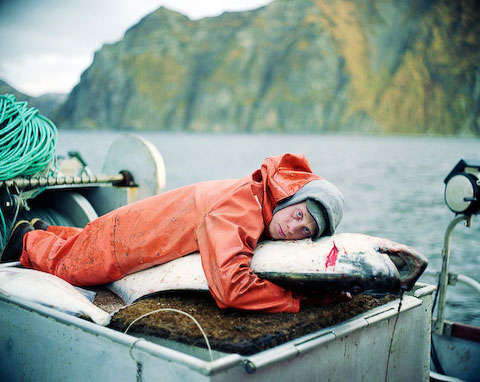 How did the shot of the raccoon and the cookie come about?
'My girlfriend and I were staying at a little bed and breakfast in Astoria, Oregon. We were in the kitchen when a raccoon appeared at the window and the lady running the place opens the window while talking in a baby voice to the raccoon… " ohhhh, why helllooooo little friend! Are you hungry for a treat!" Apparently there is a whole den of raccoons living in the backyard and she spends the days feeding them cookies… cookies for years! It's amazing that raccoons can survive off cookies. This pic was taken outside later that day during another cookie feeding'.
What camera are you using?
'I've mixed it up a bit over the last 5 years but most of my pictures were taken with a Mamiya 645 or Mamiya 7. Although recently I've been able to mix some digital pictures in and was surprised at how seemlessly they could be incorporated into the same exhibition. With digital, I'm using the Canon 1ds Mark III with fixed lenses. Mostly film though. Film, whenever possible!'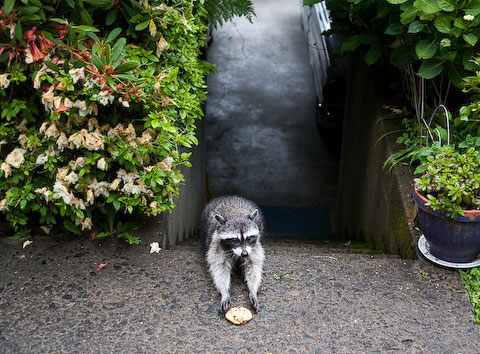 The 2nd Annual Feature Shoot Emerging Photography Awards is an international photography competition for up-and-coming image makers who are ready to kickstart their careers. Five talented photographers will be provided with the resources they need to get their career off to a strong start. Photographers of all disciplines are welcome to submit up to 5 images in any genre. We can't wait to see your best work! Enter here.